Maggie
is an (almost) graduate of the University of the Philippines College of Fine Arts. She was awarded Best in Illustration for her undergraduate thesis last March 24, 2012 at the Opening of Out of the Orange (Exhibit).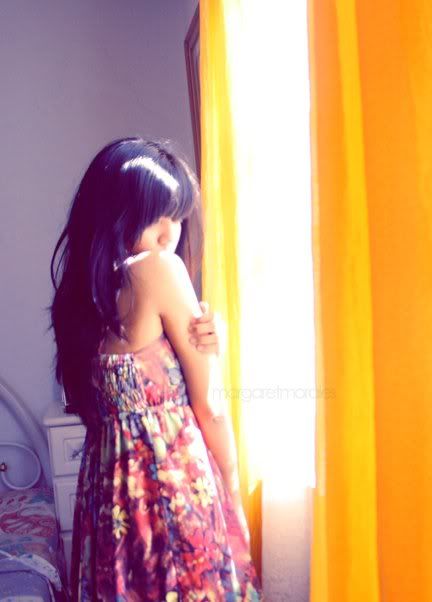 1. Tell us something about yourself as an illustrator. How did you develop your style? Who are/what styles are your idols?
Hi, my name is Margaret Frances Morales. For short you can call me Maggie. For me illustration is not only a way of expressing yourself but is also a way to inspire and influence people. When I was a kid, my mum taught us how to draw people and landscapes. Seeing we had talent, we were enrolled in summer art classes so my sister and I could learn to paint. I never really thought of pursuing art as career until I entered college.
So at first I was just one of those people who would randomly browse at DeviantArt to look for a good wallpaper for their desktop. Then I realized that Hey, I can draw like some of the artists there and so I gave it a try and joined DA in 2008. My first artwork was a girl in an orange gown that I drew on paper, took a picture of it and painted it (using mouse) in Photoshop. Well, it turned out better than expected so from then on I started posting watercolor paintings and sketches (as well as some of my photography) during summer. While browsing, I came upon several artists that ignited my passion. I really admire the beautiful art of Audrey Kawasaki, compositions and detailing of Kidchan and Katrina Pallon and the realistic character paintings of Patipat Asavasena and Stanley Lau. From them, I dreamt of having my own set of illustrations that I can be proud of. So in 2009, when I finally got my own tablet, I created another DA account solely dedicated to my artworks.
Well, I don't know if my works have a particular style I can call since I draw inspirations from different styles and combine them with my own. But you may notice that there's always something common with the way I draw faces and patterns.
2. Where do you draw inspiration for your subjects?
Most of the time, I draw whichever inspires me. If I'm currently into gaming, I would draw game characters. When I'm into detailing (my feminine, flowery mood) I draw pretty girls. When I've watched enough fantasy and sci-fi, I draw sexy cyborgs in bizarre worlds. Sometimes I get from my dreams when they become too vivid. So basically I draw inspirations everywhere and I'm not afraid to try out new concepts and styles.
Have your inspiration/s ever failed you in the past? Why do you keep on doing what you do?
The illustrators I admire never fails to impress me. So like them, I always try to improve myself and keep doing what I like. I know that I can always do better and there is always room for improvement. My family and friends have been very supportive of me, as well as my current boyfriend who has also been a good critic and supporter of my works.
3. What do you consider the most unique element of your works?
Probably the eyes and the hair. I spend most of my time perfecting the emotion expressed by those parts.
4. Why do you like drawing girls/women?
I've been drawing women figures since the birth of Sailormoon and I find it easier to draw compared to men. Women are more slender and curvy which for me, makes them an ideal subject for an artwork. Well, I do try to draw men for a change but they unfortunately, become one of the girls too. :<
Do you see a part of your self in the figures you illustrate?
Oh you. :"> Yes, I am one of those pretty and sexy women in my artworks.
And of course, I'm just kidding.
MAGGIE'S WORK
Follow her work on
DeviantArt
Email her
here
I'm so proud of you, Maggie! <3
——-
For all the girls who want to do illustrations, too, I say: DO.
Stay creative!
Kit
of The Girls' Room